There are 2 ways to register for an inter-company training course/
1) Register online by filling in the form below:
2) Bulletin d'inscription stage INTER-ENTREPRISE
Télécharger notre bulletin d'inscription (ci-dessous) et nous le renvoyer par mail à ct2m@ct2m.fr.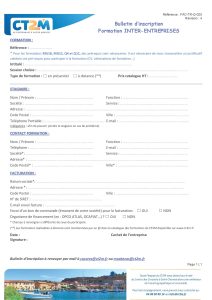 Pour vous inscrire à une formation intra-entreprise :
Contacter le CT2M grâce au formulaire de contact ci-dessous ou bien directement par téléphone au 04 90 50 90 14.
Un ingénieur vous recontactera pour discuter de vos attentes et vous transmettra une proposition qui correspond au mieux à vos besoins.

Locaux et accès au public en situation d'handicap
Les locaux du CT2M sont adaptés pour accueillir et recevoir des personnes en situation de handicap. Toute personne en situation de handicap peut donc suivre nos formations. Une équipe dédiée sera sollicitée pour adapter la formation si besoin. Vous pouvez nous contacter par email à ct2m@ct2m.fr ou par téléphone au 04.90.50.90.14 pour plus d'informations.
Conditions de participation aux formations inter-entreprises :