Le CT2M est certifié selon le Référentiel National Qualité (RNQ) Qualiopi pour l'ensemble de ses formation en présentiel et en ligne.

You will find below our training programs.
To register, you can use the registration form at the bottom of the page.
---
GENERAL METROLOGY
MG1 - Metrology through practice
MG1B - Advanced Metrology
MG1C – Savoir évaluer les niveaux de risques lors d'une déclaration de conformité
MG2 - Estimation of calibration and test uncertainties
MG3 - Validation of quantitative methods
MG3B - Validation of qualitative methods
MG3C - Methods performance monitoring
MG3D – Les exigences du GEN REF 10 et la validation des méthodes d'étalonnages
MG4 - Estimation of analytical uncertainties according to ISO 11352
MG5 - Control charts
MG6 – Devenir Responsable Métrologie
MG7 - Metrology Awareness
eMG7 - Metrology Awareness (online training)
MG8 - Operation of Interlaboratory Comparison
MG9 - Awareness of estimation uncertainties
eMG9 – Sensibilisation à l'estimation des incertitudes (formation en ligne)
MG10 - Monte Carlo method for estimating uncertainties
MG11 - Uncertainties and calibration functions
MG12 - Laboratory Statistics
SPECIFIC METROLOGY
MS1 – Métrologie des masses et des balances
MS2 - Measure gaseous pollutants - QUAL1,2,3 and AST
MS3 - Temperatures Metrology
MS4 - Volumes Metrology
MS5 - Metrology of pH meters
MS6 - Metrology, uncertainties and methods validation in the nuclear field
MS7 - Prepackages Metrology
MS8 - Dimensional metrology
MS9 - Metrology in pharmaceuticals and cosmetics
MS10 – Métrologie dans le domaine électrique
MS11 – Métrologie en laboratoire de prélèvement d'air
QUALITY
Q1 - Understanding and implementing ISO 17025: 2017
eQ1 – Comprendre et mettre en oeuvre la norme ISO 17025 : 2017 (formation en ligne)
Q1B – Les évolutions de l'ISO 17025 version 2017
Q2 - Become an internal auditor according to ISO 17025
Q3 – Se préparer à l'audit COFRAC
Q4 - Internal audit development
Q5 - Process approach
Q6 - Knowing how to audit the metrology function
Q7 – Devenir Responsable Qualité en laboratoire
Q8 - Become a Laboratory Technical Manager
Q9 - Become an internal auditor according to ISO 17020
Q10 - Quality according to ISO 9001 version 2015
Q11 – Devenir Pilote de processus
Q12 – Comprendre et mettre en oeuvre l'ISO 15189
Q13 - Risk and Opportunity Approach
Q14 – Comprendre et mettre en oeuvre l'ISO 17043
LBM
LBM1 - Internal/external quality control and estimation uncertainties
LBM2 - Metrology in Medical Biology Laboratory
LBM3 - Validation/verification of methods
Date and cost

des formations

2021

Catalogue

de formations

2021
---
REGISTER FOR INTER-COMPANY TRAINING COURSES:
---
Taux de satisfaction aux formations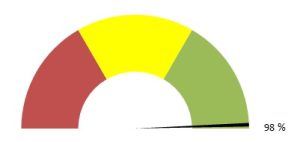 Ce taux de satisfaction est calculé en divisant le nombre de participants satisfaits par le nombre de participants durant l'année 2019.